As we anticipate the announcement of the NBA's MVP, the question rises each year, what makes an MVP? Is it the best player on the best team (Dirk Nowitzki 06-07), or the guy who makes everyone around him better (Steve Nash 04-05, 05-06), or simply the player with the best stats (Kevin Garnett 03-04)? One criteria Bill Simmons uses is if 2 people were choosing sides for a pick up game that would decide their lives or something like that. Who would be the first pick? Well we'll take it one further. Tristan and I have chosen teams based on players performances through the 2007-2008 seasons, and our 8 man teams will decide our lives (or at least a beer or two), the game will be played at historic Rucker Park.

We flipped a coin for the first pick, and then it went to the next two, next two, and so on. End result is an 8 man street ball squad (not street ball rules), also tacked on a coach to lead these dynamic players. Here is how the draft went with a brief reaction after each selection by the guy who made it.

Rich Keefe won the toss and deferred.

Besse 1st (1) pick: Chris Paul
Sure, I probably should have taken Kobe or Lebron here, but I'm on the Chris Paul bandwagon and at an inner city hoop game, guys like this carve up the court. He has surpassed Steve Nash as the best point guard in the game. A guy like this won't just make no look, behind-the-back, highlight reel passes, but he has the ability to score as well as any other player on the court. In my eyes, the primary ball handler is a key position for a game at Rucker Park, so I went ahead and took the best one there is.
Keefe 2nd (1) pick:
Kobe Bryant
As good as Chris Paul has been this year (my pick for the MVP) there's no way I'm passing up on Kobe. LeBron has monster numbers, but I still think Bryant is the best in the game. He's been threw battles on the court and with my life depending on it, I have to have Bryant. If this game comes down to a last second shot… yeah I like my chances.
Keefe 3rd (2) pick:
LeBron James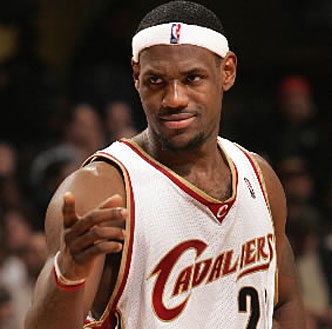 Really thought I would end up with Kobe or LeBron, not both. I now have 2 guys who can take over a game and score at will. It's going to be a physical game, and LeBron certainly has what it takes. These two guys worked very well together on Team USA in the qualifier, and should win himself a Gold Medal this summer. LeBron has lived up to all the hype he got coming out of high school. He has a chance to one day be the greatest player of all time. And he falls to 3? What a game.
Besse 4th (2) pick:
Allen Iverson
I wasn't surprised at all that Rich took both Kobe and Lebron. Having taken the two best scorers in the game, I needed a scorer of my own. There's plenty in the league, but only one truly belongs at Rucker Park. A.I. looks the part, plays the part and he is the part, as like Kobe, he's actually played at Rucker Park before. And Iverson plays every game like he's in Rucker Park, sacrificing his body to create lanes, open shots and scoring opportunities across the floor. And his experience in a game like this with his scoring ability will be essential.
Besse 5th (3) pick:
Amare Stoudemire
I wanted a big man that can score here. I debated Dwight Howard and almost pulled the trigger on it, especially after seeing these 20/20 games he's posting in the post-season. But I didn't want his rebounding ability to be the end all in making this pick, so I went with another bad-ass in Stoudemaire. KG and Tim Duncan were other options, but I didn't like KG's offense in a game like this, and Duncan is great, but too soft.
Amare gives me good size down low and was a force at C before Shaq allowed him to move back to his natural PF position. Based on my first two picks, I'm starting a trend of playing small, so logic tells me a natural C won't work here. And I like his attitude and energy for this.
Keefe 6th (3) pick:
Kevin Garnett
Besse is on his way to recreating the Western Conference All-Star team. His guards are good, but small. I have my two wings so I need to focus on bruisers up front and a point to match Chris Paul. If my life is truly on the line here, I want a guy that I can count on to play like his life is also on the line. I'll go with KG. Intense is too light a word for Garnett, maybe "KG" should be a new entry in the dictionary. This guy won't let me down.
Keefe 7th (4) pick:
Dwight Howard
Should I go point guard here? Maybe I should have, but with Dwight Howard sitting here with all the muscle can't pass him up. A windy day outside probably won't effect his two handed thunder dunks he's put on opposing big men all season. He and KG down low will be a perfect compliment. Some say all he does right now is dunk and rebound. Well with Kobe, LeBron, and KG, all I want him to do is dunk and rebound.
Besse 8th (4) pick:
Paul Pierce
Pierce was stabbed 11 times in the face, neck and back at a late night dance club back in 2000. He had surgery to repair his lungs as a result of the attack. The following season he played all 82 games and averaged 25.3 points per game. Excuse me?
This is the same guy who earned the moniker "The Truth" from Shaquille O'Neal in 2001 and was fined last week for flashing a gang symbol. As far as I'm concerned, these are HOF credential at Rucker Park. His numbers took a dive this year, but so did everyone else's on the Celtics' 66-win squad. Like Iverson, he can find ways to create and score at will; he just does it with a 6'7 frame. We've seen solid defense this year, as well, and with his toughness I like the pick here.
Besse 9th (5) pick:
Steve Nash
Rich has gone all big so far and has yet to take a ball handler. So instead of taking a guy like Duncan to add some size, I took the second best point guard off the board. I was sure he'd have to take Jailhouse Williams which was fine by me. The reason I don't mind this pick is that we can run different sets with Paul and Nash up top. This will force us to play small, but with the top two passers in the league, scoring opportunities will be aplenty in this one. And let's not forget that Nash can nail the 3, or 2 in this case. Either way, the last two years he's had the second highest percentage from beyond the arc (behind Jason Kapono) and in the two previous years before that he was ranked sixth. Not too shabby. As far as his street cred? Reference last year's playoff series against the Spurs. The guy's a gamer.
Keefe 10th (5) pick:
Deron "Jailhouse" Williams
Two solid picks back-to-back by Besse right there. Really wanted Pierce on my team, being a fan of the Celtics and great players, but with Kobe and LeBron he wasn't a necessity. I'm glad Jailhouse slipped to me at 10. (Note: while playing at Illinois, Deron Williams was given the nickname by myself and college roommates because of his ridiculous "Jailhouse" tattoos. We were all a fan as the Illini may or may not have won us all some money that season. I have been a huge fan ever since.) This guy is right behind CP3 for best point guard in the game right now, and in Rucker Park, he certainly looks the part.
Keefe 11th (6) pick:
Tim Duncan
I know the Big Fundamental doesn't exactly scream outdoor, physical street ball. Well his 4 championship rings, great defensive, and versatile offensive game make him a must. In fact he will be coming off the bench for my team with KG and Howard ahead of him, but the winning experience will go a long way. He's a top 5 power forward in the history of the NBA, so I can't keep him off the board any longer. Welcome aboard Timmy.
Besse 12th (6) pick:
Shaquille O'Neal
Keefe selected Duncan which I didn't mind at all. To counter, I came back with Neon Bodeaux. So he's not as good as the Neon we saw in Blue Chips, but he's a big force down low and is a good matchup against any big man in a game like this. I'm not looking for him to score – I have plenty of guys that can do that already. But when in the game, he can move Amare back to PF like he did for the Suns and give us more size down low. It should clog the lane for Keefe's team, and after seeing him flatten Tony Parker in Game 2, what's not to love? The opposing team may be bigger overall, but if we defend on the perimeter they'll have to come inside and meet Diesel, who should feel right at home on the court at Rucker Park.
Besse 13th (7) pick:
Gilbert Arenas
I won't lie, I almost picked him about eight picks ago. Talk about swagger, confidence and a guy that's destined to play in a game like this. He'll be a great scoring threat shooting from the outside and with slashers like A.I. and Pierce to go with Nash and Paul, plenty will be done to free up Arenas on the outside to shoot. And he'll talk plenty, too, adding plenty of character and dialogue that is so commonplace at games like this. I refer back to the YouTube video of Arenas taking on DeShawn Stevenson in a 3-point contest. If you haven't seen it, check it out:
http://www.youtube.com/watch?v=Bn6O42a5vl8
Keefe 14th (7) pick:
Caron Butler
After taking Duncan with my last pick I needed some more street cred, and round out my bench. I'll go with Tuff Juice. This guy is a force. Does everything on the court for yeah and has been a man since his days at UConn. With Arenas out most of the year and for the rest of the playoffs (we're saying he's healthy for this game, hence Besse just taking him), Butler has been the reason why they're not only in the playoffs, but playing a game 6 tonight against LeBron. He'll be a valuable guy off the bench for me.
Keefe 15th (8) pick:
Carmelo Anthony
Stop snitchin'. Teaming Melo with LeBron can't miss. Hasn't been a winner in the NBA's playoffs, but he's not the main man on this team. In fact, he's the 8th man. But with a game like his there's room for him on my team. He can score a number of different ways and is strong enough to play in a physical game that this will undoubtedly be. Being my final pick he was up against the likes of Baron Davis, Ron Artest, Stephen Jackson, Carlos Boozer, Joe Johnson, Chauncey Billups, Marcus Camby, T-Mac, and Shawn Marion.
Besse 16th (8) pick:
Rasheed Wallace
Rasheed reminds me of Raymond from White Men Can't Jump; the dude that sniffed out Sid and Billy, prompting him to grab his piece from the car. He also tried to rob the convenience store around the corner, but let's not concern ourselves with that. It's all I think of when I look at Sheed, though. He'll come packin' heat, no doubt about it. This guy is bad ass, and in a street game, he's a no-doubter in my book. Size, toughness and the dude can play. I thought about Ron Artest here for his defense and BAM (bad ass mentality), but you gotta be able to score in this game, so we'll let Ron call next.
Keefe:
Deron Williams
Kobe Bryant
LeBron James
Kevin Garnett
Dwight Howard
Tim Duncan
Caron Butler
Carmelo Anthony
Besse:
Chris Paul
Allen Iverson
Paul Pierce
Amare Stoudemire
Shaquille O'Neal
Steve Nash
Gilbert Arenas
Rasheed Wallace
Besse: Coach – Jeff van Gundy
What more can you say about a guy who got dragged across the floor breaking up a fight between Alonzo Mourning and Larry Johnson in '98? Well, you can also say that he got rocked by his own player, Marcus Camby, trying to break up another fight in '01. That one left his bloodied and battered. That's a guy I'd wanna play for, and a guy I want coaching my team at Rucker Park.
Keefe: Coach – Stan van Gundy
My sources got win that Jeff van Gundy was coming out of the booth to coach Besse's squad. So I thought we'd play mind games with him a bit and take Magic coach Stan Van. This is by no means saying he is the best coach in basketball, rather just some gamesmanship.
Game Outlook:
Besse: There's no question that with both King James and Lord of the Rings, Rich probably takes this thing in an NBA. But this is at Rucker Park, not the Quicken Loans Arena. I have the two best guards in the game and a roster of scorers whose personalities and playing style blend nicely with Rucker Park. Looking at my lineup, I have more guys that play with toughness and have the ability to find and create scoring opportunities. We're certainly smaller in size, but we can hit the 2 from the outside and I picked up guys like Shaq and Sheed that will be bangers down low. We'll play a lot like the Rangers did in Game 4 against the Penguins, playing physical and going after his key players, ala smashing Sidney Crosby against the boards over and over again. I like our mix of skill inside and outside, and with Paul and Nash running the show, look for some serious street ball highlights en route to victory.
Keefe: Kobe and LeBron. Should I go on? I don't care if this game is in the TD Banknorth Garden, my back yard, the moon (which would be the first time anyone has been there, but that's a whole other thing), or Rucker park. I have the 2 best basketball players in the world on my team. Not to mention KG and Howard up front with Deron Williams at the point. Yes CP3 is better, but not enough to overtake this stacked lineup. Not to mention Duncan, Butler, and Melo coming off the bench. I like my team very, very much.
Now what do you think? Decide who's team would win a game where the lives of the people who selected the teams are on the line. We'll tally up the votes and see who the winner is. Remember this game is being played at Rucker Park, there are whistles, but they are few and far between. Leave a comment and let us know.
Team Besse or Team Keefe?