-Keefe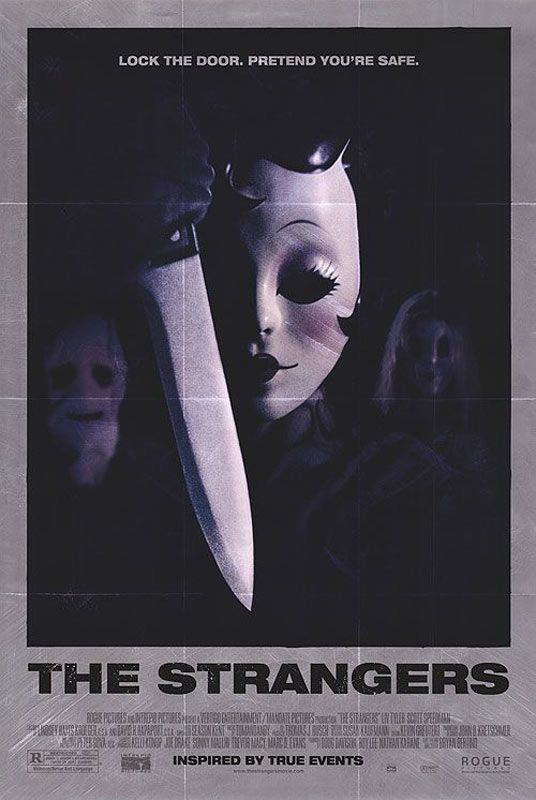 My girlfriend and I recently saw the new horror sensation
The Strangers
. The previews said it all about this film, or so I thought. Two people alone in the middle of no where get messed with by three people in masks. Can't miss right? The trailer legitimately scared me. I would tell people at work to stop whatever they were doing and check out the preview for
The Strangers
. They would go to their computers and watch it. When they came back, jaws dropped, pale faced, and often with a change of pants. It was that good. If the preview came on while I was watching TV late at night, I would have to change the channel. They already hooked me, I didn't need to scare myself again. I was excited to see it. Like a 21 year old Mike Tyson or 41 year old Barry Bonds this was a rock solid home run.
Give the marketing department a lot of credit for the trailer. This was the sole reason I had to see this movie. In fact, more often than not, the preview is what makes or breaks one's decision to hit the theater. Few exceptions to this rule include comic book or other well known stories coming to the big screen. You say Spiderman or Ironman, go ahead and show 90 seconds of Tony Stark looking at his suit, and I'll still run out on opening night to see it. Or if Vince Vaughn (or your favorite actor/actress) is in a new film, don't think the preview will detour you, you're going to see it. Case in point, I'll probably see Zohan just cause of Sandler. But if someone said there's a movie coming out called the Strangers and it's about people in a house with weirdos outside, you'd say ok… when's it going to be on TV? But then you see this preview and it's, when can we go?
Unfortunately horror movie fans this one could not live up to the hype. It reminds me of the Dave and Dan situation with Reebok prior to the 1992 Summer Olympics. Maybe the trailer set the bar too high (much like the bar set on the pole vault that Dan couldn't get over thus failing to qualify), and there was no way the actual movie could live up to it. How could extrapolate that 90 seconds into 90 minutes? Well I'm not sure they did. Simply, it was not as scary as the preview, and as the movie went along it became pretty predictable.
It was not a complete failure though. There were a bunch of "what are they doing? I wouldn't do that"- moments, but what horror movie doesn't have that? They had some unique ideas (no spoilers), which is saying something in this day and age of remakes and copy cats.
The Strangers
can not be put in the same class of newer horror films such as
The Devil's Rejects, Saw, The Descent,
or even
House of 1,000 Corpses
. With that said it was better than many others including the new
Black Christmas, See No Evil, Feardotcom, The Grudge
, and
The Grudge 2
.
I didn't hate it. In the range of horror movies out there today it ranks somewhere in the middle, and that would have been fine if I wasn't so pumped up to see it. Maybe I have to see it again, I don't know. I'd like to get someone else's perspective on it (besides my girlfriend, whose thoughts you can read below), and see what you think.
Final rating: 6/10; probably rent, netflix, download for free, or whatever it is you do.
This is what the girlfriend thought of
The Strangers
:
Review of
The Strangers
: 1 estrella

What a complete let down. The plot was horrible; they did not develop any of the characters and the clincher… it was not scary! Liv Tyler barely spoke 5 words throughout the movie, there was little dialogue, and little scares.
My brief synopsis of the film: They (Liv and her boyfriend not sure his name not memorable enough) come home from an evening out, I think it was a friend's wedding, they are staying at a remote summer home, and strangers terrorize them. I did not go into the movie with high expectations, even though the previews left me quite intrigued.

With that being said I really love a good horror flick, I enjoy the suspense but this movie did nothing for me. In fact my pulse did not rise over 75 the entire time. I was more scared of the teenage boy sitting by himself at the movie. I was completely paranoid he was going to shoot up the place halfway through the movie. To make matters worse the screen went black at the end of the movie, technical difficulty I suppose or the teenage employee/s up in the cinema stand had lit the reel on fire, not really sure, but it really made the movie that much worse when we had to wait for the movie to restart to find out the ending did nothing to make the 90 minutes any better or any more frightening. "Surprisingly" at the very end of the film the writers leave you with "hopes" for a sequel, to be named Strangers: Revenge of Tamara.
I waited till after I wrote my above review to check out what others thought, and it looks like I am not alone. The only person still thinking The Strangers was worth the 18 dollars is Rich Keefe, the ultimate movie optimist. Just because it's a movie does not mean it's good.
1/5 estrellas

Keefe: (I'd have to say that the lights going out may have actually been the scariest part, which isn't a good thing.)