Before the 2006 draft the League and the Players Association agreed to a new collective bargaining agreement (this is not a post on the upcoming CBA, don't worry), and part of the agreement stated that high school players could no longer be drafted.
They must wait at least until 1 year after their high school class graduation and they need to be 19 years old.
Let's play a hypothetical and say that they changed the rule, forcing players to stay 4 years in college. (It would be a terrible rule, in fact I don't like the restriction of keeping high school players out as it is now, but that's another article all together.)
The 2011 NCAA tournament brackets were announced yesterday, and I'm sure it will be an entertaining few weeks with upsets, great performances, and memorable moments. But can you imagine what it would it be like had players not been allowed to leave school early for the NBA? Here is a quick look at all the teams that saw players skip out for pro ball. (Something tells me the seeding would be different and there would drastic changes to the 68 team field.)

ACC:
Florida State – Soloman Alabi, Ryan Reid
Georgia Tech – Derrick Favors, Gani Lawal
North Carolina – Ed Davis
North Carolina State – J.J. Hickson
Virginia – Sylven Landesberg
Wake Forest – James Johnson, Jeff Teague, Al-Farouq Aminu
Big 10:
Indiana – Eric Gordon
Michigan – Manny Harris
Ohio State – Kosta Koufos, B.J. Mullens, Evan Turner
Big 12:
Baylor – Ekpe Udoh
Iowa State – Craig Brackins
Kansas – Cole Aldrich, Xavier Henry
Kansas State – Michael Beasley, Bill Walker
Oklahoma – Blake Griffin, Tiny Gallon, Willie Warren
Oklahoma State – James Anderson
Texas – Avery Bradley
Big East:
Cincinnati – Lance Stephenson
DePaul – Dar Tucker
Georgetown – Greg Monroe
Louisville – Samardo Samuels
Pittsburgh – DeJuan Blair
South Florida – Dominique Jones
Syracuse – Donta Greene, Jonny Flynn, Wesley Johnson
West Virginia – Devin Ebanks
Pac-10:
Arizona – Jerryd Bayliss
Arizona State – James Harden
UCLA – Kevin Love, Jrue Holiday
USC – O.J. Mayo, DeMar DeRozan, Davon Jefferson
SEC:
Florida – Nick Calathes
Kentucky – John Wall, DeMarcus Cousins, Patrick Patterson, Eric Bledsoe, Daniel Orton
LSU – Anthony Randolph
Ole Miss – Terrico White
Mid-Majors:
Memphis – Derrick Rose, Tyreke Evans, Elliot Williams
Gonzaga – Austin Daye
St. Mary's – Patty Mills
Butler – Gordon Hayward
Xavier – Jordan Crawford
Fresno State – Paul George
Nevada – Luke Babbitt, Armon Johnson
New Mexico – Darington Hobson
UTEP – Derrick Caracter
VCU – Larry Sanders
Marshall – Hassan Whiteside
That is a total of 65 players who still would have been eligible for college basketball this season. The talent is just off the charts. This year's All-American teams have yet to be announced, but this is how they could have looked…
Keefe's Hypothetical 2011 All-American Team
1st Team
Derrick Rose, Memphis
Kevin Love, UCLA
Blake Griffin, Oklahoma
Eric Gordon, Indiana
John Wall, Kentucky
2nd Team
Michael Beasley, Kansas State
O.J. Mayo, USC
DeMarcus Cousins, Kentucky
DeJuan Blair, Pitt
Jerryd Bayliss, Arizona
3rd Team
Jonny Flynn, Syracuse
James Harden, Arizona State
DeMar DeRozan, USC
Tyreke Evans, Memphis
J.J. Hickson, North Carolina State
(Compare that list to this year's likely All-Americans: Jimmer Fredette, BYU; Nolan Smith, Duke; Derrick Williams, Arizona; JaJuan Johnson, Purdue; Jared Sullinger, Ohio State; Kemba Walker, UConn… Do any of those guys crack the list?)
Conference Player of the Year:
ACC: J.J. Hickson, N.C. State
Atlantic 10: Jordon Crawford, Xavier
Big 10: Eric Gordon, Indiana
Big 12: Blake Griffin, Oklahoma
Big East: DeJuan Blair, Pitt
Conf. USA: Derrick Rose, Memphis
Horizon: Gordon Hayward, Butler
Mountain West: Jimmer Fredette, BYU
PAC-10: Kevin Love, UCLA
SEC: John Wall, Kentucky
WAC: Paul George, Fresno St.
West Coast: Austin Daye, Gonzaga
By my count 11/12 of the best conferences in the country would have had different player of the year had they all been forced to stay.
How about the competition for NCAA Player of the Year? My pick is Rose, but it's scary to think what kind of numbers Love and Griffin (all 3 were NBA All-Stars this year) would put up against college kids.
Also you see John Calipari's finger prints all over this hypothetical. Chances are Tyreke Evans wouldn't have gone to Memphis if Derrick Rose was still there for three years. I'm not going to try and guess where he would go, but that's a big reason I got Evans all the way down at 3rd Team status. Would Coach Cal leave that backcourt for Kentucky?
Three of the four 1 seeds in this year's tournament (Ohio State, Kansas, and Pitt) all would have even deeper teams. The #1 overall Buckeyes could add Evan Turner as well as big men Kosta Koufos and B.J. Mullens to their roster. Kansas is stronger with Xavier Henry and Cole Aldrich, while Pitt is all the more dangerous with DeJuan Blair. Interestingly, Duke seems to have gone back to the way they were pre Corey Maggette, William Avery, Elton Brand, Luol Deng, and don't have as many 1 or 2 and done players as they once did. Their best players (Nolan Smith and Kyle Singler) decided to return for their senior year after already winning a title.
Memphis, Kentucky, Syracuse, UCLA, USC, and Kansas State all would have likely battled for 1 seeds; I bet Duke ends up as a 4 or 5 this season.
Oklahoma, Wake Forest, Indiana, Arizona State, and Nevada would likely have all made the tournament this year instead of finishing outside the 68 team field.
Top 8 Seeds this year:
Ohio State
Kansas
Pitt
Duke
Notre Dame
North Carolina
San Diego State
Florida
Top 8 "What If" Seeds
Memphis
UCLA
Oklahoma
Kentucky
Kansas
USC
Kansas State
Ohio State
It's difficult to really predict and understand what college basketball would look like with all these players still in the game. Someone like O.J. Mayo, who has already gone from a starter to a reserve in the NBA and seen his points per game average drop each season in the league (18.5, 17.5, 11.8), could be a senior at Southern Cal this year. I personally think if he was still there we'd be talking about a guy putting up 25+ points, 8 assists a game and it'd be must see TV when the Trojans face Kevin Love, Jrue Holiday and the UCLA Bruins.
Look at the jump Kemba Walker from UConn has made in 3 seasons. He went from 8.9 points per game to 14.6, to 23.5 this year. There were rumors swirling that he would go pro after his freshmen and sophomore seasons. You think we'd know his name had he done that? Imagine if some of these other players listed above, who left after their 1st or 2nd college season elected to stay, how many points per game would they average?
Again I'm not blaming anyone for leaving school, if you're going to get drafted in the 1st round and make millions of dollars, no one can blame you. My only point in comparing a player to Kemba Walker is you can see the jump they can make in school. Is 30 points per game too much for Eric Gordon or Jerryd Bayliss? 35?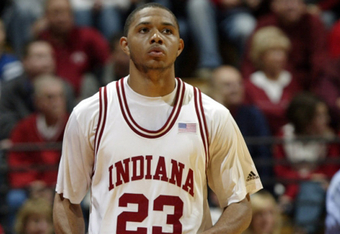 ESPN interviewed Walker, Jimmer Fredette, and Nolan Smith yesterday after the brackets were announced. They were picked because they are 3 of if not the 3 best players in the country. If everyone stayed in school are they in the Top 15? 20? How tough a job would ESPN have had trying select just 3 players to talk to between Love, Rose, Griffin, Gordon, Mayo, Wall, Beasley etc.?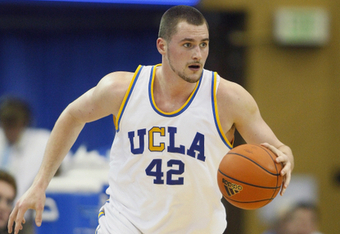 In the end it's just a fun "What If" game that will never be/ should never be the reality in college basketball. Enjoy the tournament this year like you do every March, but try not to drive yourself crazy envisioning Bill Walker and Michael Beasley in a Wildcats uniform when watching Kansas State play. Or O.J. Mayo during USC's games… or Kevin Love for UCLA… or Derrick Rose for Memphis… or John Wall and DeMarcus Cousins for Kentucky… or…
-Keefe