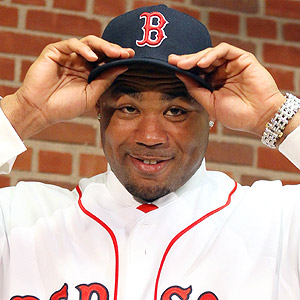 We all saw the Red Sox pull off the greatest regular season collapse in Major League Baseball history. The Rays, Orioles, and Yankees all played a very small part in history but it truly was the Sox who let it all get away. A miserable start to the season and miserable end erased what was a very successful middle. For the second straight year the Red Sox will not be in the postseason. Their last playoff win was back in the 2008 ALCS.

I won't bore you with a play-by-play account of last night's action, which all of you were watching or following anyway. Instead here are the main reasons that the Red Sox will be watching when the Yankees face the Tigers and the Rays meet the Rangers in the ALDS.

Start the year 0-6; 2-10
End the year 7-20
Go 2-5 vs. the Orioles in the final week + of the season
Allow Robert Andino to be the hero... again. (Andino hit .273-3-10 vs. BOS
In year 1 of Carl Crawford's $136 million deal he finishes the season: .255-11 HR-55 RBI & 18 SB... that's 18 steals! He is on pace to make a little over $1 million for every bag he steals. Wow. Also as we found out, he sucks in the outfield.
Right Field... enough said
Jonathan Papelbon (who was great all season) still blows a save in the biggest spot. Anyone else remember the 2009 playoffs?
Beckett & Lester crapping in their pants in September
(I won't blame injuries, but might as well mention Buchholz and Youkilis missing a lot of time, hello training staff.)
John Lackey: 12-12, 6.41 ERA. Also apparently is getting divorced from his cancer stricken wife. Yikes. Least he will have the opportunity to make up for it next year, or 2013, or 2014, or 2015...
Bobby Jenks.
Terry Francona allowing his players to think its ok to have an excuse for every single loss.
Going 10-8 in Interleague, when they normally clean-up, and bitching the entire time they played in an NL park.
And perhaps most important in this 2011 vacuum...
Losing 12 of 18 to the Rays... you know, the team that overcame you on the final night of the season.
Maybe it shouldn't be as much of a surprise that the Sox failed to make the postseason once again. You look at all of that and it really was an up hill fight. I'm sure I'm missing plenty of other great reasons, but this is all I got right now. Another season in the books. Now on to Patriots, Bruins, Celtics (hopefully), and the UFC.
Side bar: I do still believe that Jacoby Ellsbury (.321-32-105, 119R, 39SB, .928OPS) is the American League MVP. We shall see.
-Keefe